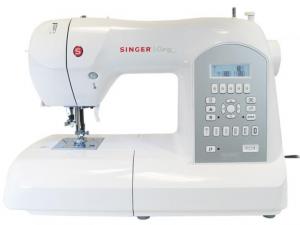 Curvy Singer 8770 Computer Sewing Quilting Machine
with Auto Tension, 173 LCD Stitches, 6×1-Step Buttonhole, Needle Up Down, Length & Width Adj, Auto Backtack
Check out the Singer Curvy 8770 at
Allbrands.com
,
Amazon.com
, and Jo-ann Fabrics.
Allbrands and Joann know about sewing machines and are always there for support and to answer any questions you might have. Amazon has competitive prices, a good return policy, and great customer service.
When price matching, always take into consideration the cost of shipping because, in some cases, the weight can add a considerable amount to the total cost. Oftentimes, these vendors will offer free shipping to the contiguous U.S. states.
Check out the Singer Curvy video from YouTube:
See our article entitled "Electronic Sewing Machines" – Click Here
More info and reviews from Amazon.com:

Happy Sewing!
---