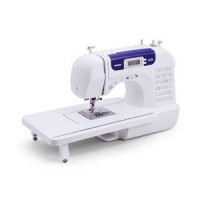 Brother CS6000i 60-Stitch Computerized Free-Arm Sewing Machine
with Multiple Stitch Functions, Extension Table and Hard Case/Cover
Don't let the low price fool you! The Brother CS6000i has a lot more features for an inexpensive computerized sewing machine. Not only does it have a one-step buttonhole (a very important feature, in our opinion), there are seven styles of buttonholes to choose from, including a keyhole style buttonhole. It has easy to use buttons, and a small LCD screen. The CS-6000i also includes a plastic fitted wide table to support your larger projects such as quilts. This machine rates higher than any other sewing machine on Amazon.com, with over 660 4-5 star reviews.
We found the Brother CS6000i at Allbrands.com, Amazon.com, and Joann.com.
Amazon has great customer service and fast shipping. Allbrands definitely knows about sewing machines and are always there for support and to answer any questions you might have.
When comparing prices, always take into consideration the cost of shipping because the weight can add a considerable amount to the total cost. Oftentimes, Allbrands, Amazon and Jo-ann's will offer free shipping to the contiguous U.S. states.
Comments and Reviews from Allbrands.com
Anthony G, Garrett IND
Great quality sewing machine for a great price. Fast delivery and it was easy enough to maneuver through the checkout. Overall a good first experience.
Cheryl J, Waterbury CT
The product and the shipping was excellent… The service and communication with everyone was also excellent.. I cant complain at all. And I could also say my mother enjoy's it.. I even had it before Mother's Day and It was in perfect/excellect condition.
Kathleen, Reva, VA,
Hi, I was looking for a moderately sophisticated first sewing machine for my 14 year old daughter, who has been sewing on my machines for 3 years now. This machine we purchased, the factory reconditioned, computerized Brother CS6000, fit the bill. My daughter is delighted with the decorative stitches, the variety of stitching options from woven to stretch, loves the smooth operation of the machine, curvy Hobbit-like shape, light weight, sewing light, quilting accessories, and last but not least the tinkling bell sound. The stitches I've seen so far are even and neat. Because of it's versatility I think this will be a good machine for her to experiment with in all the different styles and fabrics she likes to try out. Best of all it was a birthday present, I ordered it early in the week, never expecting it to arrive by Friday, the day of her birthday, but sure enough it did arrive! Thank you, for your prompt shipping.
More info and reviews from Amazon.com:

Happy Sewing!
---