Industrial Sewing Machines
Industrial sewing machines are made to be more durable and powerful than those manufactured for home use. These heavy-duty machines are made for manufacturing products such as awnings, leather goods, sails, tents, upholstery, etc. Some of the less bulky ones are great for the more challenging home sewing or small business projects, such as crafts or projects requiring heavier fabric, or machines that are much faster.
If you need more accuracy, power and speed, an industrial sewing machine may be a better choice for you. They are much more expensive than home sewing machines, so do some research and be sure that you really need one. One good tip we learned is to look at the product manual when searching for a machine. What you see in normal product descriptions and specifications on a website may not show you all of the features. Some manufacturers have manuals for download or purchase. Check the manual for all of the features you need in an industrial sewing machine.
If you sew with multiple layers of fabric, you might want to consider a machine that has an automatic thread tension adjustment system. If speed is more important to you, choose a machine that has a larger motor than others.
Another thing to be concerned about is that some industrial machines are only made to sew heavier fabrics, such as canvas, sail cloth, leather or heavy upholstery. Lighter fabrics might get chewed up. Make sure you use the machine for what it was intended for.
Our Recommendations for Industrial Sewing Machines: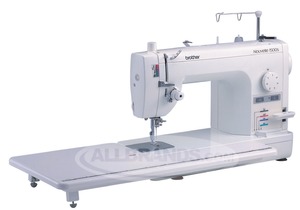 Brother PQ-1500S Sewing & Quilting Machine
Brother PQ1500S Sewing & Quilting Machine $699 Free Ship! 4 Extras Valued at $170* NeedleUp Thread&Trim KneeLift PinFeed WalkFoot 8Feet 18×12 Extension Table – at Allbrands for $699.
*4* FREE $170 Values! Deluxe Case, 12 x 3000 Yards Poly Thread Spools, 100 Organ HA x 1 Needles, 100 Superior Metal Bobbins Rotary L Style for Home and Commercial Sewing Machines.
One satisfied Allbrands customer stated, "This is my second major purchase from your website. I am very pleased and impressed with your customer service."
Check out the Brother PQ1500S Sewing & Quilting Machine at Allbrands – Click Here!
---
The Brother PQ1500S can also be found at Amazon.com – Click Here!
---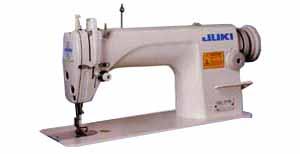 Juki DDL-8700 Straight Lockstitch Industrial Sewing Machine
Juki DDL8700 Straight Lockstitch Industrial Sewing Machine DDL8700, 11″ Arm, 5500 SPM, 1/2″ Foot LIft, 5mmSL, 6SPI, Assembled Power Stand, 100 Needles – at Allbrands for $649.
FREE Organ Japan 16×231 Regular Sharp Industrial Sewing Machine Needles, same as 16×257, 16×71, JLx1B and Juki DBx1 Needle System – Box of 100. Packs of 10
Check out the Juki DDL-8700 – Click Here!
---
Check out 100's of Commercial/Industrial Embroidery & Sewing Machines at Allbrands – Click Here!
---
Sewing Machine Reviews:
Previous – Computerized Sewing Machines
---
The Right Stitch has teamed up with Allbrands to expand our product recommendations. Allbrands is one of our sales affiliates and offers not only a huge line of sewing machine products, but also embroidery, knitting, quilting, commercial & industrial machines, accessories and so much more.
Even though Allbrands sells many different products, such as appliances and vacuums, they definitely know about sewing machines and are always there for support and to answer any questions you might have. Use our link to below to access Allbrands.
---
Arts, Crafts & Sewing: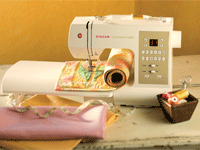 Save on Crafting Essentials at Amazon
Happy Sewing!
---