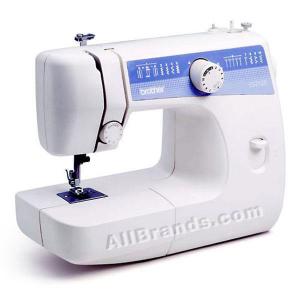 Brother 10-Stitch Portable Sewing Machine, LS-2125i
Brother LS-2125i free-arm sewing machine includes a variety of built-in stitches each with multiple stitch functions, 4-step built-in buttonholer and auto-bobbin winder. Perfect for basic sewing, mending, crafting and scrapbooking projects. This is the perfect machine for beginner sewers. Comes with very easy-to-follow instructions.

The Brother LS2125I can be purchased at Allbrands.com and Amazon.com.
Allbrands knows about sewing machines and are always there for support and to answer any questions you might have. Amazon has competitive prices, a good return policy, and great customer service.
Also, when price matching, always take into consideration the cost of shipping because, in some cases, the weight can add a considerable amount to the total cost. Oftentimes, Allbrands and Amazon will offer free shipping to the contiguous U.S. states.
---
Product Reviews from Allbrands:
My mom bought this machine for me as a gift. When I first received it, I was a bit sceptical of such an inexpensive machine and the quality in which it would produce. To my surprise, it has been a great machine that meets all of my needs. It is very easy to operate and provides a sufficient amount of stitches for me to sew almost anything. The machine provides easy-to-follow instructions for threading, bobbin-winding, and trouble-shooting.
I have six children that I sew for, two of which are learning to sew on this machine. It has been very easy for them to get used to because of its simplicity. One day, one of my little ones got to the machine and disassembled the bobbin compartment. I was highly irritated because I thought it would take me forever to figure out how to put the pieces back together. I set it aside to get back to another day. Well, my fourteen year old daughter began fiddling with it and figured out how to put it back together. I was so glad that it was simple enough for her to figure out even without instructions. My daughters and I have enjoyed many hours on this machine. I would encourage many moms to start with a simple, inexpensive machine such as this one to teach their daughters this wonderful skill of sewing, while also spending quality time with them.
I've only had one minor problem. At first, the bobbin thread kept getting stuck with the needle thread. But, once I trouble-shooted, I found that I needed to adjust the bobbin tension. I did this and the problem was solved! We are truly enjoying this machine! If you're just starting out or haven't sewn in a while, I would highly recommend starting out with this simple, inexpensive machine!

Submitted by: Candace Sabo; San Antonio, TX
See our article entitled "Looking for a sewing machine for a child or beginner?" – Click Here
More info and reviews from Amazon.com:

---
Click Here For a Fantastic Selection of Sewing Machines, Sergers, Embroidery Machines and Accessories at Allbrands.com
---
Happy Sewing!
---