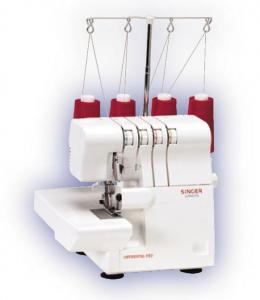 Singer 14SH654 New Style 4/3-Thread Freearm Overlock Serger
1,300 stitches-per-minute, 4/3-thread capability, with differential feed, rolled hem, stitch width and length.
The Singer 14SH654 can be purchased at a couple of locations, Allbrands.com and Amazon.com. We highly recommend buying directly from Allbrands because even though they sell many different products, such as appliances and vacuums, they definitely know about sewing machines and are always there for support and to answer any questions you might have.
There is a newer version of this item, the Singer 14CG754 Serger, at Allbrands.com and Amazon.com.
Also, when price matching, always take into consideration the cost of shipping because the weight can add a considerable amount to the total cost. Oftentimes, Allbrands and Amazon will offer free shipping to the contiguous U.S. states.
---
Click Here For a Fantastic Selection of Sewing Machines, Sergers, Embroidery Machines and Accessories at Allbrands.com
---