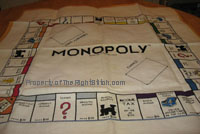 Do you embroider by hand, or cross-stitch? I used to love cross-stitching. Unfortunately, I haven't done it in years. I've still got some unfinished projects from 20-something years ago. For example, I have a completely finished cross-stitched Monopoly game (as shown on left). It still needs to be washed, pressed and matted in a nice frame that can either hang on the wall or be placed on a table for actual game play. I'm pretty sure I still have an old Monopoly game around somewhere that has all the money, cards and moving pieces. What about you? Do you have any unfinished projects laying around that you would love to finish some day? Maybe this will inspire you.
I can remember the days when I would grab an old picture frame, either at the thrift store or yard sale, thinking that I could use if for my next cross-stitch project. I also loved to browse through the arts and craft stores for embroidery hoops and picture frames that came in some really unique shapes and sizes. I have cross-stitched Christmas tree ornaments, key chains, small trinkets, pillow cases, samplers, etc. Cross-stitching the Monopoly game was the most fun and took the longest. Unfortunately, I never finished it. But, this post will lead to the process of completing my project.
Now that I'm retired, I find myself wanting to take up the craft again. I think it's easier to sit in the recliner, watching TV, and knit, crochet, or cross stitch. My sister knits, and it's amazing how many beautiful things she's finished in what seems like such a short amount of time, while she's relaxing or watching TV. She makes the most adorable baby blankets, sweaters and hats. I love the lap blanket she made for me. Don't you just love to receive something homemade?
So, I went rummaging through the garage to see what I could find. See my post about Organization and Storage Ideas on my blog, Susan's Musings. Thanks to the great storage containers, and the ability to find what I was looking for, it didn't take too long.
I know there are more boxes of crafts to go through, but I found the one box that had the very two items I most cared about.
1.) My collection of DMC embroidery thread.
2.) My cross-stitched Monopoly game. I used white 14 Count Aida Cloth.
I couldn't believe it! These have been in storage for at least 20 years, probably nore. I think I made the Monopoly game sometime in the 80's. Thank goodness for zipper bags and Sterilite storage containers. The bags have yellowed some, but the contents are still in pretty good shape. I admit that I was a smoker, and I was so afraid my things would be ruined. But, they held up nicely and don't smell like smoke. Just about everything that was stored in cardboard boxes had to be thrown away, especially old books. I am nine years smoke free and I can't stand the smell of smoke. Finding the smoky-smelling books was heartbreaking. Now, I have my Kindle that stores thousands of books….lol!
This is how it looks 20-something years later
This is how it was stored for over 20 years
I used masking tape to prevent the edges from fraying
This is an ongoing project. I need to find the perfect frame for my finished project, then I will wash, iron and mat the Monopoly game. I will post more as it progresses.
The whole piece of aida cloth measures approx. 24″ x 24″. The Monopoly board itself is approx. 18″ square, so I would probably use an 18″ to 20″ mat with a 22″ to 24″ frame.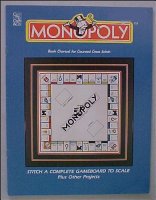 P.S. I found the Counted Cross Stitch Pattern for Monopoly Game Board on Amazon.com – Click Here!
If you are not able to find it on Amazon, try eBay.
Thanks for visiting!
---