I have the Brother SE400 combination Embroidery and Sewing Machine, and I love it!
When my 35+ year old Kenmore sewing machine broke down, I was in the middle of sewing all of my Christmas gift projects. These mostly included denim stockings made from used blue jeans, which also involved lots of decorative stitches.
The timing was actually perfect because Amazon was having a lightning deal on the Brother SE400 Embroidery & Sewing machine. I had always wanted an embroidery machine but really couldn't justify the expense. The Brother SE400 does both, embroidery AND sewing! So, since I really did not have time to bring my old machine into the repair shop, my husband was kind enough to tell me to go ahead and order the Brother SE400 as an early Christmas present. He's such a great guy! This was on December 8, 2016, and with Amazon Prime I had my new machine in two days.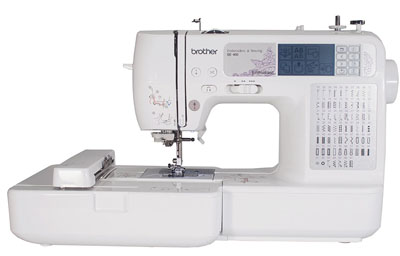 Brother SE-400 Combination Embroidery and Sewing Machine
It's a great machine for someone who needs a sewing machine and would like to try their hand at embroidery, without having to purchase two separate machines and, more importantly, without having to spend a lot of money. I consider this to be a starter embroidery machine, but many people can get along for years with this small machine.
So, as I was sewing and embellishing my Christmas stockings, I decided to give the embroidery a try. By the way, before I even get into the embroidery, I want to mention that this is a wonderful sewing machine. It has 67 built-in stitches, an automatic needle threader (what a joy that is!), and with the start/stop button I have yet to attach the foot pedal. I am also learning how to quilt, so this machine is getting a lot of use.
UPDATE:
Brother has recently come out with an upgrade to the SE400. It is the Brother SE600 Sewing and Embroidery Machine. There are several enhancements, including the expanded 6.4″ W x 4.1″ H needle-to-arm workspace, which is great for quilting and other larger projects. It also comes with more on-screen editing features, 103 built-in sewing stitches, seven quick change presser feet, and a USB port.
Brother SE600 combination Embroidery and Sewing Machine
---
Anyway, back to the embroidery:
I started by joining a Facebook group for SE400 Users and Newbies. Everyone was so helpful and helped me get started. There are so many things to learn about machine embroidery. Whether to hoop or float. What stabilizers to use. Where to find embroidery designs. It can be mind boggling.
I found some really cute holiday designs to add to my stockings. When I was done with that, I thought I would embroider some kitchen towels to give to my family and friends when we saw them during the holidays. Then, came the handkerchiefs. By now I was totally addicted.
The SE400 has a small embroidery field, only 100mm x 100mm (which is a little less than 4″ x 4″, more like 3.937″ x 3.937″, which is a big deal when it comes to uploading designs to the SE400. You see, if the design is an even 4″ x 4″, the machine won't be able to read it). But for the price, and the fact that it is also a great sewing machine, it was more than I needed.
To start with, I ordered the 12 spools of Winter/Holiday Embroidery Machine Thread by Embroidex. This set included all the colors I would need for my holiday projects. Little did I know how many colors of embroidery thread there are. I've since purchased the 63 spools of Embroidex, which includes all of the colors in the color chart that came with the SE400. I wish I had done that to begin with. I have been using Embroidex embroidery thread since I got my machine (December 2016), and I love it. I have had a few problems with thread and needle breaking, but I blame that on the way the thread comes off the spool. It would sometimes get tangled around the spool rod. I have read that it helps to use the net that came with the machine. Instead, I placed my spool on the spool extender for my bobbin winder, and the thread comes off smoothly with no problems.
Thankfully, with a week to spare, I was able to finish denim Christmas stockings for my sister by adding Christmas embroidery designs to the decorative stitching. I embroidered men's handkerchiefs with monograms for my brother, brother-in-law, nephew, a family friend, and my husband and two sons. I also embroidered kitchen towels and ladies handkerchiefs for my sister, sister-in-law, best friend, niece, and a family friend. I had so much fun, I kept trying to think of things I could embroider. I bought the kitchen towels, men's handkerchiefs, and ladies hankies on Amazon. It was great!.
Mind you, I did all of these while using the free trial of Embird embroidery editing software within just a few weeks. I learned how to open an embroidery design and merge embroidery fonts to add names. I learned how to join, split, change colors, and resize. I had already loved working with graphics programs, such as Paint and Photoshop, and this was very similar to that. Only I was working with PES files rather than JPG's.
Since I got my machine in early December, I've done quite a few projects, mostly for Christmas and baby gifts, and I've had so much fun doing it. I've embroidered kitchen towels, ladies and mens handkerchiefs, finger puppets, and baby clothes, bibs, and a minky blanket that I love. I've also done some embroidery machine applique, which is really fun. Currently, I am working on lap quilts for family members, and the SE400 is great for that.
Some of my projects:
These are the Christmas stockings that I made for my sister, her husband and their two dogs.
These are some of the handkerchiefs I did for my sister, niece, and friends
Men's Handkerchiefs for family and friends:
And kitchen towels for family and friends:
*Note that I took some of these photos before removing the WSS (water soluble stabilizer)
These are some of the In The Hoop space finger puppets I made with the SE400. They are so cute and the kids love them. I found the embroidery design at BowsandClothes.com: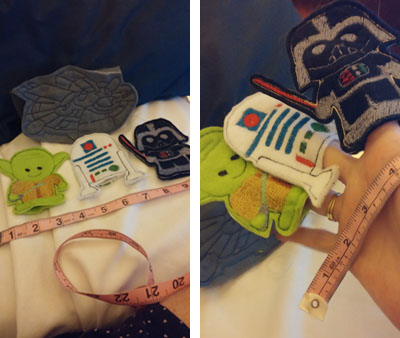 The space ship was intended for a 5″ x 7″ hoop, so I had to reduce the size to fit my large re-positional hoop. The large hoop can do a larger embroidery area, which is approximately 4″ x 6-3/4″. The hoop has two sets of connectors that allow you to stitch two sections of the hoop without having to re-hoop your fabric. You do require embroidery software to split the design into two separate files. I prefer to use Embrilliance Essentials for splitting my designs. I've used other programs, but this one just seems less complicated for me. How it works is, you stitch one file, move the hoop from the top two connectors to the bottom two connectors, and then stitch the second file. This is especially nice when you have a lot of words that can be split within two letters or words, so you don't really notice where the split took place. Some designs are more difficult to split and line up properly, so it does take some practice.

Fabric I purchased for the toes on my Christmas stockings:
Cotton Jersey Knit Christmas Plaid Fabric By The Yard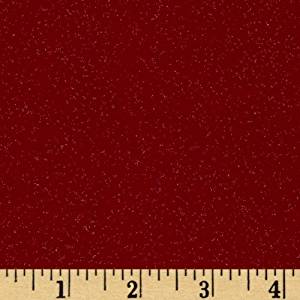 Merry Christmas Glitter Red Fabric
Just Be Claus Stitched Snowflakes Red Fabric By The Yard
---
I purchased the following handkerchiefs and dish towels and they all embroidered very nicely. I hooped them using a medium weight tear away stabilizer.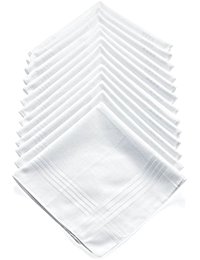 Geoffrey Beene Fine Handkerchiefs 100% Cotton
I personalized these men's handkerchiefs for male family and friends using the Classic Style Monogram Font from Stitchtopia on Etsy. They stitched out beautifully.

Plain White Cotton Handkerchiefs Women Solid Wedding Hankies
I personalized these ladies' handkerchiefs for my sister, niece, and friends I visited during the holidays. These handkerchiefs stitched out so nicely on my SE400. I used the #129 embroidery font from SewFunFonts on Etsy.

Kitchen Dish Towels with Vintage Design for Kitchen Decor Super Absorbent 100% Natural Cotton Kitchen Towels (Size: 25.5 x 15.5 inches) White with Red, Green and Blue, 13-Pack
I embroidered these kitchen towels for my sister, niece, and friends. I got the designs from DesignsByJuju. They stitched out very nicely.
Embroidery Supplies:

63 Brother Colors Embroidery Machine Thread

25 Prewound Bobbin Embroidery Thread Size A with Bobbin Holder Box – Fits Brother SE400
To be honest, I got tired of winding bobbins. Since I only use white bobbin thread I find it so much more convenient to buy pre-wound bobbins. Plus, I find that these pre-wounds hold more thread and last a lot longer than my regular wound bobbins.

100 Precut Sheets Medium Weight Tear Away Machine Embroidery Stabilizer – 8″ x 8″ 1.8 Ounce Fits 4″ x 4″ Hoops
I use tear away stabilizer on most of my embroidery projects that aren't too dense or have heavy stitching. It tears away easily from the back of the design, and the rest will wash out. The stabilizer under the stitches for support.
If you want a softer stabilizer, switch to a no show poly mesh cut away.

100 Precut Sheets Medium Weight Cut Away Machine Embroidery Stabilizer – 8″ x 8″ 2.5 Ounce Fits 4″ x 4″ Hoops
I use cut away for stretchy knits that require more stability, or when designs are too dense, with a lot of stitches. The rule of thumb is, "If you wear it, don't tear it." For a softer stabilizer I would recommend a no show poly mesh.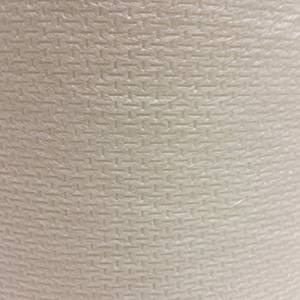 No-Show Poly-Mesh Plus Cut Away Machine Embroidery Stabilizer Cut Away 20″ x 10 Yards Roll
This is a soft, sheer, stable and translucent cut away Stabilizer.

Fusible/Iron-On No-show Poly mesh Plus Cut Away Machine Embroidery Stabilizer – 8″ X 10 yards
This is a soft, sheer, stable and translucent fusible/iron-on cut away Stabilizer.

Sulky Of America Cut Away Tender Touch Iron-On Backing White, 8″ by 9 yards
Tender Touch is a lightweight, permanent iron-on covering that is ideal to put on the back of finished embroidery. It protects sensitive skin from scratchy stitches. It is ideal for baby and child garments.

DMC 61253 Peacock Embroidery Scissor, 3 ¾ inches
I love these little scissors. I use them for snipping jump stitches on my embroidery.
---