This stylish tapestry tote bag includes a side pocket for accessories, patterns and notions, and a roomy interior to fit your sewing machine.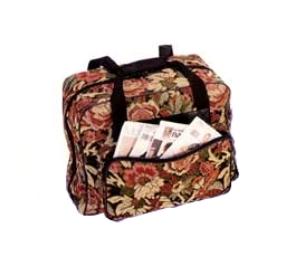 Hemline Soft Tapestry Sewing Machine Carrying Case
Hemline's sturdy construction and attractive tapestry fabric make it great for travel. The entire bag is lined and padded to protect your machine and accessories. Whether you're going across town to a sewing class or on a long trip, your sewing machine will be safe and secure.
Sewing Machines need protection from dust, humidity, cold, heat, being knocked off of tables, or rolling over in car trunks and seats. Hint. Use a seat belt
Hemline machine luggage and trolleys have the enhanced details and functional features you need to hold everything, go everywhere. This is not the trolley case with wheels. It is a carrying case for full size sewing machines, but NOT for embroidery, serger, or longer arm quilting machines. Make sure that you measure your machine to ensure a good fit, leaving a little room for any protrusions.
Super-strong, double zippers
Deep Pockets are lined and padded
Sturdy, dual tote handles with Velcro closure
Heavy woven tapestry fabric
Measures 17″ L x 8″ W x 13″ H
Price: $19.99
---