Get Excited about sewing again with Juki's new G210. This delightful machine offers computerized sewing with 180 stitch patterns, including professional quality buttonholes and 1 alphabet character set. The Excite G210 also has an automatic needle threader, drop feed, and Bright White, no heat, LED lighting.
Juki Excite HZL-G210 Computerized Sewing & Quilting Machine
Decorate Away

Use the 180 patterns on the Excite to create stylish décor items. It's so easy – Just select the menu, select the pattern and start sewing. There are so many fun patterns on the HZL-G210 that you'll only be limited by your imagination.
Perfect for Large Projects

The G-210 has plenty of room to handle even the largest projects.

The large underarm area and stable base, make this machine a perfect quilting companion and perfect for home decor projects.

Easy Pattern Selection

Selecting the right pattern is easy on the G-210.

Select the Menu, use the arrow keys to select the pattern number and your off and sewing in nothing flat!

The LED screen displays the stitch settings, pattern and even recommends the best presser foot to use.

Need to adjust the stitch length and width? Just use the arrow buttons below the stitch settings display.

Need to program in trims, needle position, combine patterns and more – no problem. It's all right at your fingertips.
Sensor Buttonholes

Buttonholes made simple!

The Juki Excite G-210 has 8 perfectly balanced and high quality buttonhole patterns to choose from.

Just select the desired pattern, snap on the buttonhole foot and lower the buttonhole foot sensor and your ready to create perfect buttonholes for any fabric.




Combine and Sew Away

Combine decorative stitches or lettering into pattern sequences and save them to the machine memory.

The Excite G-210 allows you to combine up to 70 patterns.

Stitch them once, or stitch them over and over with the touch of a button.



Sashiko – Hand Look Quilting

The Juki Tension system handles invisible thread with ease so sashiko – hand look quilt stitches are formed perfectly every time.

No tangles, no thread breaks, just beautifully formed stitches every time.
Drop the Feed Dogs and Go!

With just a flip of the switch, you can be creating free-motion quilting stitches or free-hand embroidery with ease.





Perfect Needle and Stitch Placement

The G-210 has 37 variable needle positions which allow you to place the needle any where you desire.

It also has a

feature that allows you to taper zigzag stitching
to the center for perfect applique, decorative sewing and more!
Automatic Needle Threading

The automatic needle threader, threads the needle with just the push of a lever.




Stitching Powerhouse

Thanks to a 7-point surgical steel feed dog system, the G-210 can handle the heaviest fabrics with ease and the sheerest fabrics without puckering.

The industrial style box-feed system means that heavy or light fabrics feed evenly and smoothly.
Variable Speed Control

Sew it up fast or slow it down for more detail. The
Excite can sew as fast as 900 spm or as slow as 90 spm.

Trim and Go

With the push of a button you can trim the top and bobbin thread in an instant.

Lock Stitching

Hold the reverse button and sew backwards. Touch it and lock the end of your sewing.

Start/Stop Sewing

Sew without your foot control – just unplug and go.
Additional Features

Free Arm Sewing
Bright LED Lights
Instructional DVD
Hard shell Carry Case
---
Brother HC1850 Computerized Sewing and Quilting Machine with Built-in Sewing Font and Wide Extension Table
Here's a relatively new sewing machine that is getting rave reviews!
Feature-packed, versatile, and reliable; perfect for sewing, quilting, basic monogramming, and decorative stitching
The versatile HC1850 Computerized Sewing Machine gives you the flexibility to do everything from basic monogramming, to creating quilts, adding decorative stitches to clothing and craft projects, sewing buttonholes and more. The HC1850 features 130 unique stitches, including 8 styles of 1-step buttonholes, plus 55 alphanumeric sewing stitches for basic monogramming. Quilters enjoy the included spring action quilting foot, detachable wide table, and the ability to do free-motion quilting. Designed for flexibility and ease of use, this machine includes 8 presser feet, an attached stitch reference flip-chart, push-button stitch selector, adjustable sewing speed, automatic threading system, and detachable foot controller. Though heavy on features, the HC1850 is also incredibly lightweight, and perfect for carrying your machine to classes. Includes a bilingual English/ Spanish instructional DVD and printed manual, and a 25-year limited warranty.
Check out the Brother HC1850 at – Click Here!
---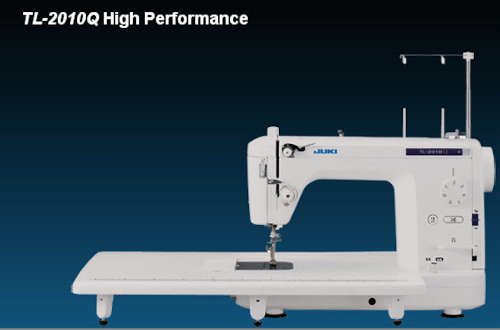 Juki Tl-2010Q High Performance Straight Stitch Sewing and Quilting Machine
Juki TL-2010Q Straight Stitch Sewing, Piecing & Free Motion Quilting Machine TL2010Q, LED Lights, SubTension, 1PedalTrim, SpeedControl, 1500SPM, 7Feet
The NEW Juki TL-2010Q is a high-performance sewing and quilting machine. The TL-2010Q is a single needle, lock-stitch, portable machine, constructed of aluminum die-casting to ensure industrial-quality sewing.
With advanced features, such an industrial sub-tension system, variable speed control slider, and bright white LED lighting, this machine is built for precision sewing. With a large work area of up to 23 inches (with auxiliary table attached), the TL-2000Qi can handle large quilt, sewing or home decor project with ease. Continue reading »
Juki TL-2000Qi Sewing and Quilting Machine
Juki's updated quilting and home deco machine. Powerful 1500 SPM machine, low vibration due to the aluminum die cast frame and with automatic thread cutting. LED lights and one pedal control for speed and trimming system complement this semi industrial sewing machine. Famous stitch quality with true drop feed used by many of the best quilters. This workhorse machine comes with an automatic needle threader, 1/5 inch quilting foot and even feed foot and extended bed table. Up to 12mm foot left, easily hems denim jeans.
The NEW Juki TL-2000Qi is a high-quality sewing and quilting machine. The TL-2000Qi is a portable, lightweight machine, constructed of aluminum die-casting to ensure industrial-quality sewing. With a large work area of up to 23 inches (with auxiliary table attached), the TL-2000Qi can handle large quilts and home decor project with ease.
Check out the Juki TL-2000Qi at Allbrands and Amazon, both well trusted online retailers.
Juki Comparison Chart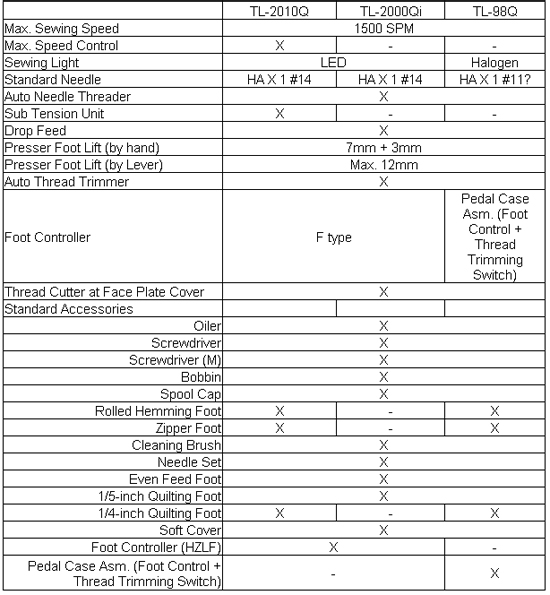 When comparing the Juki TL-2000Qi to the Janome 1600P and Brother PQ1500S, the Janome 1600P DBX has a built-in, on board Speed Limit Control slider as well as Variable Speed Foot Control. Juki TL2000Qi and Brother PQ1500S do not have Speed Limit Control.
See the Juki TL-2010Q
~~~~~~~~~~
Brother PQ-1500S Sewing & Quilting Machine
The PQ-1500S is a dream machine that belongs in the sewing room of every serious quilter and seamstress. It is a high-speed straight stitching machine, sewing up to 1,500 stitches per minute! The PQ-1500S offers an adjustable pin feed mechanism,4 feed dog settings for maximum fabric control, a knee lifter and bed extension table for quilting, full range foot pressure adjustment, an automatic thread cutter and easy needle threader a time saving convenience.
Brother PQ1500S High Speed Quilting Machine
Lighting
1 Lamp
Thread Tension
Manual
Needle Threading System
Easy
Bed Area (Depth x Width) inches
5.7 x 8.6
Maximum Sewing Speed (Stitches Per Minute)
1500
Feed Dog
Special to PQ-1500S (With Pin-feed)
Standard Presser Feet Included with Machine
7
Built-in Sewing Stitches (Includes Buttonhole Styles)
1
Stitch Length
7mm
Drop Feed/Free Motion
Drop Feed/Free Motion
Features:
Up to 1,500 stitches per minute
High speed straight stitch.
Heavy duty construction for sewing, quilting and crafting
Increased stability at high speeds.
Automatic thread cutter
Automatically cut the upper and lower thread.
Brother exclusive pin-feed mechanism
Moves several layers of fabrics simultaneously for sewing accuracy.
On-board fabric separator tool
Easily sew seams in contrasting fabrics without puckering.
Knee lifter for quilting
Ability to lift presser foot with knee frees your hands to turn your projects
4 color-coded levels of feed dog adjustment and presser foot pressure
For visible and maximum fabric control.
Extension table with bobbin case opening
Helps you manage those large projects. Easy access point eliminates the need to remove table to replace oversized metal bobbin.
Dual thread stand
Keep 2 thread spools ready with on-board thread stand; use thread spool extender for quick and consistent threading.

The Brother PQ1500S can also be found at Amazon.com – Click Here!
~~~~~
Also, check out the Juki TL-2000Qi Sewing and Quilting Machine and the Juki TL-2010Q Sewing and Quilting Machine.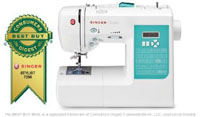 Offering 100 built-in stitches, the Singer 7258 Stylist includes a large variety of stitches for all types of sewing, such as fashion sewing, quilting, heirloom, crafts, home and decorative sewing.
Among the top five product features, this machine has an automatic needle threader and six styles of one-step automatic buttonholes. The one-step buttonholer alone makes this a great pick, and there's so many more great features.
This is one step up from the really nice Singer 7256 70-Stitch Computerized Free-Arm Sewing Machine.
Check out more of Amazon's Best Selling Sewing Machines – Click Here!
~~~~~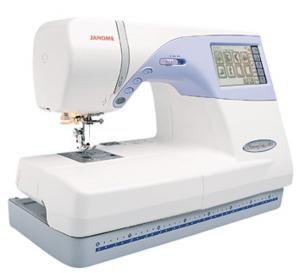 Janome MC-9500 100-Stitch Sewing & 5.5″ x 7.9″ Embroidery Machine
The Memory Craft 9500 brings together all your favorite sewing and embroidery features in one hard-working machine, combining the power and precision of a superior stitch mechanism with the sophistication of computerized Touch Screen control.
Continue reading »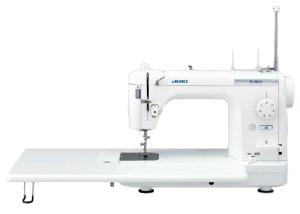 Juki TL98Q 6″ X 9″ Long-arm Sew & Quilt Machine, 1500SPM
Because life if too short for a slow sewing and quilting machine.
Juki TL98Q 110V is the same as Juki TL98P Perfection which is the 220V version for overseas markets, not for the USA.
Continue reading »
Brother CP-7500 Computerized Sewing Machine
Lightweight, affordable and packaged with over a dozen accessories, the CP-7500 is the perfect computerized solution to your sewing needs.
70 built-in stitches, each with multiple stitch functions (110 total stitch functions)
LCD screen with computerized stitch selection
Oversized wide table for quilting and larger projects
One-step bobbin replacement
One-touch start/stop/reverse operations
One-step buttonhole with 7 styles; auto-size buttonholes
Automatic needle threading
Automatic bobbin winding
Full assortment of accessories, including sewing feet and quilting feet
Includes a hard cover to protect your machine
Lightweight, weighing only 10lbs.
Dimensions: 6.7″ W x 11.4″ H x 16″ L
25-year limited warranty
Brother PC-420 PRW Project Runway Limited Edition
This Project Runway™ Limited Edition machine fuels your creative impulse to fashion customized clothing fit to fancy your wardrobe tastes. Sew attire that suits your number one customer – yourself! The PC420PRW is a feature packed, computerized sewing machine designed to sew the perfect stitch every time. With direct stitch selection buttons, your pre-programmed stitch is ready to use with the simple touch of a button. On top of this great feature, My Custom Stitch™ feature is a must-have for all designing sewers. Now you can design your own stitches using the built-in LCD display panel. Saving them to the machine's memory ensures quick access for your treasured designs. The programmable thread trimmer cuts the upper and lower thread at the end of each task. Customization abounds with this machine leaving you the opportunity to sew any project you can imagine!
Continue reading »