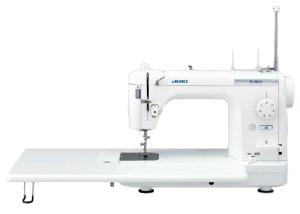 Juki TL98Q 6″ X 9″ Long-arm Sew & Quilt Machine, 1500SPM
Because life if too short for a slow sewing and quilting machine.
Juki TL98Q 110V is the same as Juki TL98P Perfection which is the 220V version for overseas markets, not for the USA.

The Juki TL-98Q is a high-quality sewing and quilting machine designed to replace the TL-98E. The TL-98Q is a portable, lightweight machine that is easy to transport. The arm and bed of the TL-98Q are constructed of aluminum die-casting to ensure industrial-quality sewing. The larger work area enables maneuverability of large materials. An auxiliary table extends the work area to 23″ to allow for even larger projects.
More Juki TL-98Q Features:
A 1,500rpm maximum sewing speed for high-performance.
Presser foot presser is easily adjustable, just turn the regulator at the top of the machine and regulate according to the indicator.
The push lever automatic needle threader affords you the pleasure of easily threading the needle without eye-strain and allows you to start sewing quickly.
Automatic needle stop up/down button. Press the needle up/down button to move the needle's position as desired, press the button continuously to make the machine sew stitch by stitch.
Knee lift lever raises foot to 12mm so that light to heavy weight materials are easily handled.
Hand lift raises foot to 9mm.
A drop feed dog swith to raise and lower feed dog, useful for sewing curved stitches with ease.
A 11″ X 23″ extended table work area for greater manueverability.
6″ X 9″ arm space to the right of the needle.
US Warranty: 5 Years Mechanical, 2 Years Electrical, 90 Days Adjustments on defects in material or workmanship.
Non-US Warranty: 30 days parts and labor
Comparison:
Brother PQ1500S, Janome 1600P & DBX (Babylock Elna Pfaff Viking) do not have the Juki external port for remote operation of thread trimming for use on machine quilting frames.
Frequently Asked Question:
What is the difference between the Juki TL-98Q and the Juki TL-98QE?
The Juki TL-98Q has automatic under-bed thread trimmers for top and bobbin threads. It eliminates having to use scissors to trim threads after finishing a seam. It also eliminates having to bring up the bobbin thread. The TL-98Q has an automatic needle threader, and a large extension table (to use when not using a frame). The TL-98QE does not have these features


Check out the Juki TL-98Q and the Juki TL-2000Qi

Happy Sewing!
~~~~~~~~~~