SA156 Bobbins are 7/16″ depth, high quality clear plastic and are for use in many Brother sewing and embroidery machines. (10 pack). Please check your manual to verify which bobbin style is right for your machine.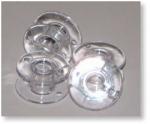 Brother SA156 10 Pack of Class 15, Clear View Plastic Bobbins 1/2″H
10 pack of plastic class 15 bobbins fit all class 15 drop-in rotary or oscillating hook machines, whether older front load or newer top drop in class 15 bobbins. It is ok to use plastic bobbins in metal and plastic bobbin cases. Metal class 15 bobbins should only be used in front load metal bobbin cases as it may cause undue wear on top load plastic bobbin cases, but will work fine.
Price: $6.99
For Use With Brother Models: (See Chart)
Compatible with Babylock Sewing Machine Models: (See Chart)
Compatible with Bernette Sewing Machine Models: (See Chart)
Alternative Part Numbers SA156, SA165, X52800150, X52800120, X52800-120, X52800-050, X52800050 & XA5537051
SA156 is the same featured bobbin as Brother part number XA5539-15
Also same as j4b111662 for new Brother NX, 4500D and Babylock Ellegante machines. Also same as Singer 085128.
Class 15J Bobbins. Are you familiar with the class 15J bobbin? This is a special class bobbin used in the Singer 7400 series of machines, as well as the Futura (CE-100) and Quantum Futura (CE-200). Do not use regular class 15 bobbins in these machines, they will cause tension problems and can damage the bobbin case. The 15J is slightly smaller than the regular class 15, and the edges have a slight curve towards the center. The part number for this bobbin is 085128.
Class 15 plastic bobbins for oscillating shuttle hook machines & their removable underneath bobbin cases, fit in new model drop-in bobbin machines Brother Singer Janome Juki
Both Singer 15J and Brother SA156 Class 15 plastic bobbins have been designed with a slight curvature on the top and bottom flanges with rounded polished edges to help prevent top thread from catching underneath the top flange and jamming machines. Only the original and older versions and generic Class 15 metal and plastic bobbins had straight level flat flanges without as much rounded polished edges.
There are four numbers for the 156 bobbins:
SA156—regular empty bobbins
SABOBCLIP—same size bobbin also empty with a clip for each bobbin to hold the thread on after they have been wound with thread
PWB250—same size bobbin that is prewound with white embroidery bobbin thread
PWB250B-same size bobbin that is prewound with black embroidery thread
---